My Blog
Posts for: March, 2014
By Richard D. Morgan, DDS
March 27, 2014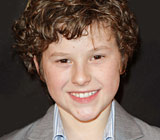 Nolan Gould of the hit TV show Modern Family has an uncommon gift for comedy, but he also has a very common orthodontic problem: too many teeth for the size of his mouth, which often results in "crowding."
"My teeth used to be pretty messed up," Nolan recently told Dear Doctor magazine in an exclusive interview. "I had two extra teeth when I was born. They hadn't come out (erupted) yet. And all the other teeth that were already there were starting to point backwards because it was getting so crowded in my mouth. They had to remove those two (extra) teeth," he said.
Although being born with extra teeth is somewhat unusual, needing to have teeth extracted for orthodontic reasons is not. In fact, orthodontic treatment often involves removing teeth to relieve crowding. It makes sense when you think about it: When there are too many teeth for the size of the dental arches (upper and/or lower jaws) or the teeth are larger in size than the dental arch can accommodate, there may not be enough space to align them properly. The necessary space can be created by removing teeth.
The teeth most frequently extracted for orthodontic reasons are the first bicuspid teeth. These are the ones right between the cuspid, or eyeteeth (under the eyes) and the molars (biggest back teeth). Once there is enough space, the orthodontist can choose from a variety of orthodontic appliances to align the teeth, depending on the specific needs of the individual.
In Nolan's case, it was the extra two teeth he was born with that were removed. Afterwards, the young actor's orthodontist was able to shift Nolan's remaining teeth into proper alignment using orthodontic appliances called Crozats. Made of metal wires, Crozats go around the back teeth and behind the front teeth, making them virtually invisible.
"You can remove them, which is really good for acting, especially because you can't see them," Nolan explained. "I can wear them 24/7 and nobody will ever notice."
Nolan's orthodontic appliances may not be noticeable, but his fabulous smile certainly is!
If you would like to learn more about improving tooth alignment with orthodontics, please contact us today to schedule an appointment for a consultation. If you would like to read Dear Doctor's entire interview with Nolan Gould, please see "Nolan Gould." Dear Doctor also has more on "Tooth Removal for Orthodontic Reasons."
By Richard D. Morgan, DDS
March 12, 2014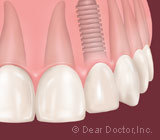 Dental implants provide a number of advantages as a tooth replacement system, like durability and imperviousness to decay or gum disease. Bone naturally grows and attaches to the titanium posts, strengthening the attachment over time, and they don't cause damage to adjacent teeth. Best of all, an implant and its crown's life-like appearance can rejuvenate a person's smile, transforming their appearance and self-image.
But it takes time to complete treatment with dental implants — months of healing and sufficient bone growth to anchor the implant before affixing the permanent crown. If the natural tooth requires extraction first, this may add another step — and more healing time — to the process.
In recent years, though, patients who meet certain criteria are able to shorten the time after a tooth extraction with "immediate" implants. In this case, rather than waiting for the socket to heal following a tooth extraction, the implant is placed directly into the socket immediately after the extraction. Immediate implants thus combine tooth extraction and implantation into one procedure.
For the best results, the extraction must be done very carefully to avoid as little damage as possible to surrounding tissue and bone. It's also important for the implant to be completely immobilized within the bone with no movement at all. It will stabilize further as bone growth (or ossification) occurs over time.
It's also possible to attach a provisional crown to the immediate implant for aesthetic purposes. This isn't the permanent crown that will be affixed after bone growth around the implant; for that reason it's made in such a way that it doesn't contact its counterpart tooth in the opposing jaw. Although the implant is completely immobilized mechanically, it's still not ready for the full forces of normal biting and chewing. After two to three months, the implant should be fully integrated with the surrounding bone and ready for the permanent crown.
Immediate implants are best for the more visible front teeth that encounter less biting force than back teeth. The technique not only reduces healing time, but enables patients to gain an "immediate" aesthetic benefit — and something worth smiling about.
If you would like more information on immediate implants or other dental implant options, please contact us or schedule an appointment for a consultation. You can also learn more about this topic by reading the Dear Doctor magazine article "Immediate Implants."