My Blog
Posts for tag: dental implants
By Richard D. Morgan, DDS
December 29, 2014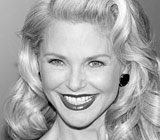 Fracturing back molars is an experience no one ever wants to have. But when a helicopter crashed during a back country ski trip, supermodel Christie Brinkley soon discovered that she had fractured two molars. Fortunately for Christie, her oral health was restored with two dental implants. As she said during an interview with Dear Doctor magazine, "I am grateful for the dental implant technology that feels and looks so natural."
While Christie's dental implants replaced back teeth, we routinely use them to replace both back and the more visible front teeth. But best of all, we have demonstrated expertise at making dental implant crowns look real. This is where we meld science and artistry.
What drives the most natural and beautiful result is how the crown (the visible, white portion of a tooth) actually emerges through the gum tissues. We also match the adjacent teeth identically in color, appearance, shape and profile. But we can't take all the credit, as it takes an entire "behind-the-scenes" team to produce dazzling results. Choice of materials, the laboratory technician (the person who actually handcrafts the tooth), the expertise we use in placing a dental implant crown and the total quality of care we provide are the ingredients necessary for success.
Another critical factor required is ensuring there is enough bone volume and gum tissue to support an implant. Both of these must also be in the right position to anchor an implant. However, if you do not have adequate bone volume, you may be a candidate for a minor surgical procedure to increase your bone volume through bone grafting or other regenerative surgical techniques.
To learn more about dental implants, continue reading the Dear Doctor magazine article "Matching Teeth & Implants." Or you can contact us today to schedule an appointment so that we can conduct a thorough examination, listen to your concerns, answer your questions and discuss treatment options. And if you want to read the entire feature article on Christie Brinkley, continue reading "The Secret Behind Christie Brinkley's Supermodel Smile."
By Richard D. Morgan, DDS
June 20, 2014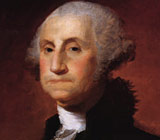 Everyone knows that George Washington wore false teeth. Quick, now, what were our first President's dentures made of?
Did you say wood? Along with the cherry tree, that's one of the most persistent myths about the father of our country. In fact, Washington had several sets of dentures — made of gold, hippopotamus tusk, and animal teeth, among other things — but none of them were made of wood.
Washington's dental troubles were well documented, and likely caused some discomfort through much of his life. He began losing teeth at the age of 22, and had only one natural tooth remaining when he took office. (He lost that one before finishing his first term.) Portraits painted several years apart show scars on his cheeks and a decreasing distance between his nose and chin, indicating persistent dental problems.
Dentistry has come a long way in the two-and-a-half centuries since Washington began losing his teeth. Yet edentulism — the complete loss of all permanent teeth — remains a major public health issue. Did you know that 26% of U.S. adults between 65 and 74 years of age have no natural teeth remaining?
Tooth loss leads to loss of the underlying bone in the jaw, making a person seem older and more severe-looking (just look at those later portraits of Washington). But the problems associated with lost teeth aren't limited to cosmetic flaws. Individuals lacking teeth sometimes have trouble getting adequate nutrition, and may be at increased risk for systemic health disorders.
Fortunately, modern dentistry offers a number of ways that the problem of tooth loss can be overcome. One of the most common is still — you guessed it — removable dentures. Prosthetic teeth that are well-designed and properly fitted offer an attractive and practical replacement when the natural teeth can't be saved. Working together with you, our office can provide a set of dentures that feel, fit, and function normally — and look great too.
There are also some state-of-the art methods that can make wearing dentures an even better experience. For example, to increase stability and comfort, the whole lower denture can be supported with just two dental implants placed in the lower jaw. This is referred to as an implant supported overdenture. This approach eliminates the need for dental adhesives, and many people find it boosts their confidence as well.
If you have questions about dentures, please contact us or schedule an appointment for a consultation. You can learn more in the Dear Doctor magazine articles "Removable Full Dentures" and "Implant Overdentures for the Lower Jaw."
By Richard D. Morgan, DDS
March 12, 2014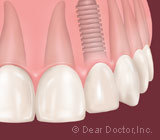 Dental implants provide a number of advantages as a tooth replacement system, like durability and imperviousness to decay or gum disease. Bone naturally grows and attaches to the titanium posts, strengthening the attachment over time, and they don't cause damage to adjacent teeth. Best of all, an implant and its crown's life-like appearance can rejuvenate a person's smile, transforming their appearance and self-image.
But it takes time to complete treatment with dental implants — months of healing and sufficient bone growth to anchor the implant before affixing the permanent crown. If the natural tooth requires extraction first, this may add another step — and more healing time — to the process.
In recent years, though, patients who meet certain criteria are able to shorten the time after a tooth extraction with "immediate" implants. In this case, rather than waiting for the socket to heal following a tooth extraction, the implant is placed directly into the socket immediately after the extraction. Immediate implants thus combine tooth extraction and implantation into one procedure.
For the best results, the extraction must be done very carefully to avoid as little damage as possible to surrounding tissue and bone. It's also important for the implant to be completely immobilized within the bone with no movement at all. It will stabilize further as bone growth (or ossification) occurs over time.
It's also possible to attach a provisional crown to the immediate implant for aesthetic purposes. This isn't the permanent crown that will be affixed after bone growth around the implant; for that reason it's made in such a way that it doesn't contact its counterpart tooth in the opposing jaw. Although the implant is completely immobilized mechanically, it's still not ready for the full forces of normal biting and chewing. After two to three months, the implant should be fully integrated with the surrounding bone and ready for the permanent crown.
Immediate implants are best for the more visible front teeth that encounter less biting force than back teeth. The technique not only reduces healing time, but enables patients to gain an "immediate" aesthetic benefit — and something worth smiling about.
If you would like more information on immediate implants or other dental implant options, please contact us or schedule an appointment for a consultation. You can also learn more about this topic by reading the Dear Doctor magazine article "Immediate Implants."