My Blog
Posts for tag: dentures
By Richard D. Morgan, DDS
January 13, 2015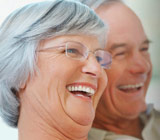 While dental implants are considered the gold standard for tooth replacement, removable dentures are still a viable choice, especially for patients with edentulism (complete tooth loss). Removable dentures have also undergone considerable advancement to improve their function, appearance and longevity.
But even with these advancements, dentures still require a fair amount of skill, experience and — of utmost importance — a sense of art. If you're considering this option, long-term success depends on a careful process of construction, fit adjustment and regular checkups to maintain that fit.
Our first step is to determine exact tooth placement on each denture. Using facial features (or photos before tooth loss) we establish placement landmarks so that corresponding upper and lower teeth align properly. We also consider tooth size, their orientation in relation to the lip, and the needed space to leave between the upper and lower teeth when they are at rest. We make these determinations based on accepted standards of beauty, but also taking into account your particular comfort level with any features that might alter your appearance.
The denture's gums must also look realistic when you smile, especially if your upper lip rises above the teeth to expose more gum tissue. We also want to match the color and texture of your natural gums, as well as incorporate palatal rugae, the little ridges behind the upper front teeth that aid with speech and chewing food.
When we first place the new dentures in your mouth, we may need to adjust them for balance between the upper and lower sets when they come together. An imbalanced fit could have an adverse effect on your ability to bite, chew and speak normally.
Your dentures should have a good, comfortable fit. Over time, however, you will encounter some degree of bone loss because you no longer have your natural teeth to stimulate bone growth and absorb the forces created during function when your teeth contact. This and other factors may cause your dentures to become loose and uncomfortable to wear. For that reason, it's important for you to visit us regularly to maintain that good fit and check the health of underlying tissues and bone.
Careful planning and denture construction help ensure your new dentures successfully restore form and function to your mouth. Regular monitoring will also ensure they continue to serve you well for as long as possible.
If you would like more information on removable dentures, please contact us or schedule an appointment for a consultation. You can also learn more about this topic by reading the Dear Doctor magazine article "Removable Full Dentures."
By Richard D. Morgan, DDS
September 23, 2014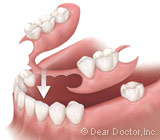 While dental implants are the preferable choice for teeth replacement, your life circumstances may cause you to postpone it or some other permanent restoration. In the meantime, you need a temporary solution for your tooth loss.
Removable partial dentures (RPDs) have met this need for many years. RPDs are traditionally made of rigid, acrylic plastic resin and fasten to existing teeth with metal clasps. While effective as temporary tooth replacements, RPDs do have their drawbacks: they can be uncomfortable, develop a loose fit and are prone to wear and staining.
Recently, though, new RPDs made of a flexible type of nylon are addressing some of these drawbacks. Because the nylon material is thermoplastic (able to change shape under high heat), it can be injected into a cast mold of a patient's mouth to create the denture base, to which life-like replacement teeth are then attached. And rather than a metal clasp, these RPDs have thin, finger-like nylon extensions that fit snugly around existing teeth at the gum line.
The new RPDs are lightweight, resistant to fracture and offer a more comfortable, snugger fit than the older RPD. And because the nylon material can be made to closely resemble gum tissue, the base can be designed to cover receding gum tissue, which may further improve the appearance of a patient's smile.
On the downside, these new RPDs are difficult to reline or repair if they're damaged or the fit becomes loose. And like all RPDs, they must be regularly removed and cleaned thoroughly to prevent any accumulating bacterial biofilm that could increase the risk of gum disease or tooth decay (the attachment extensions are especially susceptible to this accumulation). They should also be removed at night, since the reduction in saliva flow while you sleep can worsen bacterial buildup.
Still, the new flexible RPD is a good choice to bridge the time gap between lost teeth and a permanent restoration. They can restore lost function and improve your smile during the transition to implants or a fixed bridge.
If you would like more information on temporary tooth replacement, please contact us or schedule an appointment for a consultation.
By Richard D. Morgan, DDS
June 20, 2014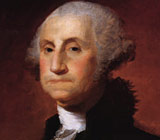 Everyone knows that George Washington wore false teeth. Quick, now, what were our first President's dentures made of?
Did you say wood? Along with the cherry tree, that's one of the most persistent myths about the father of our country. In fact, Washington had several sets of dentures — made of gold, hippopotamus tusk, and animal teeth, among other things — but none of them were made of wood.
Washington's dental troubles were well documented, and likely caused some discomfort through much of his life. He began losing teeth at the age of 22, and had only one natural tooth remaining when he took office. (He lost that one before finishing his first term.) Portraits painted several years apart show scars on his cheeks and a decreasing distance between his nose and chin, indicating persistent dental problems.
Dentistry has come a long way in the two-and-a-half centuries since Washington began losing his teeth. Yet edentulism — the complete loss of all permanent teeth — remains a major public health issue. Did you know that 26% of U.S. adults between 65 and 74 years of age have no natural teeth remaining?
Tooth loss leads to loss of the underlying bone in the jaw, making a person seem older and more severe-looking (just look at those later portraits of Washington). But the problems associated with lost teeth aren't limited to cosmetic flaws. Individuals lacking teeth sometimes have trouble getting adequate nutrition, and may be at increased risk for systemic health disorders.
Fortunately, modern dentistry offers a number of ways that the problem of tooth loss can be overcome. One of the most common is still — you guessed it — removable dentures. Prosthetic teeth that are well-designed and properly fitted offer an attractive and practical replacement when the natural teeth can't be saved. Working together with you, our office can provide a set of dentures that feel, fit, and function normally — and look great too.
There are also some state-of-the art methods that can make wearing dentures an even better experience. For example, to increase stability and comfort, the whole lower denture can be supported with just two dental implants placed in the lower jaw. This is referred to as an implant supported overdenture. This approach eliminates the need for dental adhesives, and many people find it boosts their confidence as well.
If you have questions about dentures, please contact us or schedule an appointment for a consultation. You can learn more in the Dear Doctor magazine articles "Removable Full Dentures" and "Implant Overdentures for the Lower Jaw."