My Blog
Posts for tag: oral hygiene
By Richard D. Morgan, DDS
March 24, 2015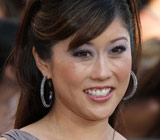 When Olympic figure skater Kristi Yamaguchi wanted to help her kids develop good oral health habits, the gold-medal-winner made good use of a family connection: Her father Jim Yamaguchi is a practicing dentist in the San Francisco Bay area who treats her entire brood. As she said in a recent interview, when she suspects the kids may be spending a little less effort on oral hygiene than they should, she playfully admonishes them: "You've got to brush your teeth better than that. Papa-san is going to know!"
Not all kids are lucky enough to have a grandpa who's a dentist — but every child can learn how to help take care of his or her oral health with age-appropriate techniques, plus plenty of parental guidance and encouragement. What's the best way to help your kids develop good oral hygiene routines? We're glad you asked!
Through babyhood and the toddler years, parents have the main responsibility for keeping kids' teeth clean. But as they begin to put away pacifiers and cease sucking thumbs — around ages 2 to 4 — children can also begin to help with their own oral hygiene routine. By then, kids will probably be used to the feel of gentle brushing, and may be eager to try it themselves.
A soft-bristled brush with a pea-sized dab of toothpaste is all they need to get started… along with a good dose of parental patience. Show them how to wiggle the brush back and forth from the gum line, and all around the upper and lower teeth, both in front and in back. At first, they will probably need plenty of help. But after the age of 6 or so, as their manual dexterity increases, so will their ability to get the job done.
You'll still have to check their work periodically — but you can also teach them how to do it on their own: Have your child run his or her tongue over the tooth surfaces. If they feel smooth and silky, they're probably clean too. If not… try, try again. This test is a good guideline to brushing effectiveness — but if you want to know for sure, use a temporary dye called a disclosing tablet (available at many drugstores) to reveal unseen buildups of plaque bacteria.
What else can you do to give your children the best chance at keeping a healthy mouth and sparkly teeth? Set a positive example! Make sure you (and your kids) eat a healthy diet, get moderate exercise, limit between-meal treats — and visit the dentist regularly. The encouragement you'll get after having a good dental checkup will make you feel like a gold medalist — even if the praise isn't coming from grandpa.
If you would like more information on how to help your child develop good oral health habits, please contact us or schedule an appointment for a consultation. You can also learn more about this topic by reading the Dear Doctor magazine articles "Dentistry & Oral Health For Children" and "How to Help Your Child Develop the Best Habits for Oral Health."
By Richard D. Morgan, DDS
April 11, 2014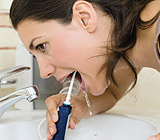 Does anyone truly enjoy flossing their teeth? We can't rule it out — but for most of us, flossing is something we do because we understand how very important it is to our oral hygiene. Yet there are some for whom flossing is a much greater challenge — for example, people with limited mobility, or those who are wearing braces. Is there any alternative to flossing that offers these people the same health benefits?
Perhaps — but before we discuss the options, let's remember why flossing is so important. The number one enemy of your oral health is plaque: a sticky, bacteria-rich film that builds up on the surface of your teeth every day. Flossing is an effective means of removing plaque from the tiny spaces in between the teeth — the places a regular brush can't reach. Left alone, plaque builds up into a hardened layer called tartar or calculus, which generally requires a professional cleaning with special dental tools to remove. Both plaque and tartar are the major causes of tooth decay and gum disease.
If you are unable to remove plaque via regular flossing, a tool called an oral irrigator may help. Sometimes called a "water flosser" or "pick," this device is designed to squirt a pulsing jet of high-pressure water through a hand-held wand. Special tips may be also available for use with braces or dental implants.
Since these devices first became widely available in the 1960s, they have been the subject of many studies. The general conclusion from the research has been that water irrigators can be helpful in controlling plaque — particularly in people who would otherwise have trouble doing so. For example, a 2008 study showed that orthodontic patients who used an irrigator with a special tip after brushing normally were able to remove five times as much plaque as those who used brushing alone.
Oral irrigators aren't just for use in the home. Many dental offices use similar devices for special treatments that can help control gum disease. Of course, in that case, the professional-grade tool is handled by a specially trained dental hygienist, dentist, or periodontist — and it's part of a procedure that may also involve other manual or power instruments, plus special cleaning solutions.
So does it make sense to use an oral irrigator instead of flossing? For most people, flossing is probably the best way to ensure that you remove as much plaque as possible. But if for some reason you aren't able to floss effectively, using an oral irrigator offers some well-documented benefits. Why not ask us the next time you come in? We can help you decide which method is right for you, and even demonstrate the most effective techniques for plaque removal.
If you would like more information about oral irrigators, please contact us or schedule an appointment for a consultation. You can also learn more by reading the Dear Doctor magazine article "Cleaning Between Your Teeth: How Water Flossing Can Help."