My Blog
Posts for tag: orthodontics
By Richard D. Morgan, DDS
January 28, 2015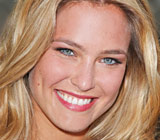 Let's say you happen to be sitting on a plane next to supermodel Bar Refaeli, who was recently voted #1 on Maxim magazine's Hot 100 list. You're a little nervous, but you want to make a good impression. What's the first thing she's going to look at? Your expensive suit? Your sculpted torso? How about — your smile!
"Teeth are the first thing I look at," explained the glamorous cover girl in a Maxim interview. "A nice smile with beautiful teeth is the most attractive thing."
We wholeheartedly agree. But, of course, not everyone is lucky enough to be born with a perfect set of teeth. What to do then?
"Let's just say that with today's orthodontists, I don't understand why people wouldn't fix them," Refaeli stated. Need we say more?
The Israeli supermodel, who has appeared in several Sports Illustrated swimsuit issues, knows what she's talking about. Refaeli started modeling as a young child, but had to put her career on hold for a few years while she got braces. When they came off, at age 11, she began her steady climb to the top of the modeling business.
Plenty of aspiring actors and models — as well as regular folks — get braces as children. But if you're serious about improving your smile, it's never too late to have orthodontic treatment. For adults, there are many options available in addition to the standard metal appliances.
Colorless ceramic braces offer a less noticeable way to correct misaligned teeth. Made of high-tech materials that resist staining, their translucent appearance blends so well with the look of your natural teeth that it can be hard to tell you're wearing them.
Clear aligners are an alternative to braces that are worn 20-22 hours per day. They consist of a series of precision-made, transparent "trays" that gradually straighten your teeth over a period of time. Best of all, you can remove them for special occasions — like meeting a supermodel.
Which type of orthodontic treatment is best for you? Why not come in for a consultation and find out! Working together, we can evaluate your situation and develop an effective, individualized treatment plan that fits your lifestyle.
If you have questions about orthodontic treatment, please contact us or schedule an appointment for a consultation. You can learn more in the Dear Doctor magazine article "Orthodontics For The Older Adult."
By Richard D. Morgan, DDS
December 19, 2014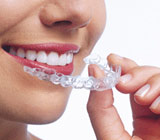 If you are considering having your teeth straightened, for cosmetic or other reasons, the idea of using clear aligners rather than traditional braces may be appealing.
Here are the answers to some frequently asked questions about clear aligners.
What are clear aligners?
Clear aligners are clear removable custom fitted "trays" that gradually straighten teeth. Used sequentially, each individual tray is slightly different from the one before and is worn every day for two weeks before going on to the next one in the series. This slowly moves your teeth to a new position.
How are they made?
The trays are computer-generated, based on impressions and models of your mouth combined with the knowledge of growth, development of teeth and jaws, and most importantly how and why teeth move.
How long does this treatment take?
By wearing clear aligners for at least 20 hours per day for two weeks before changing to the next tray in the sequence, treatment time can range from six months to two years depending on your individual situation.
Can children wear clear aligners?
Clear aligners are generally used for adults who have all their teeth and when jaw growth is complete, but can be used for younger people depending upon the extent and severity of their situation.
What situations can clear aligners be used for?
Clear aligners can realign or straighten teeth, close mild spaces, treat elongated teeth and tip teeth into better position. They are usually recommended for correcting mild to moderate crowding of teeth, particularly if your back teeth already fit together properly.
When are clear aligners probably not the right choice?
If you have a bad bite (your back teeth do not fit together well), or if you have a severe overbite or underbite, traditional braces are probably a better choice for treatment. If your teeth are severely crowded, or if your situation is complex, clear aligners will probably not be the right treatment choice.
How do you decide whether clear aligners are right for you?
An orthodontic assessment of your individual situation must be performed by our office.
What is considered in the assessment?
The assessment includes specialized x-rays of your teeth, jaws and skull, along with photos, impressions, and models of your bite.
For more information about clear aligners vs. traditional braces, make an appointment with us for a consultation and an examination of your own situation. You can learn more by reading the Dear Doctor magazine article "Clear Orthodontic Aligners: An Alternative for Adult Orthodontics."
By Richard D. Morgan, DDS
August 13, 2014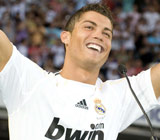 He's the world's highest-paid soccer player: a forward on the Spanish club Real Madrid, and captain of the Portuguese national team. His super-toned body is featured in a series of advertisements, and he's regularly seen with a supermodel on his arm. So would it surprise you to know that it took a bit of dental work to help Cristiano Ronaldo get a world-class smile?
You might never guess it to look at him now — but when he was 18 years old, and just starting his professional career with Manchester United in England, Ronaldo wore ceramic braces to correct a set of teeth that were quite a bit… off-sides. (As pictures from that time show, his teeth were out of alignment and had irregular spacing.) Yet in a relatively short time, his smile was completely transformed.
Ceramic braces are the treatment of choice for many sports stars and celebrities — and plenty of "regular" folks too. They work just like traditional all-metal braces, exerting a gentle force that slowly moves the teeth into better positions. But they have one major difference: They're a good deal harder to notice.
That's because instead of having brackets made of metal, this style of braces uses a high-tech ceramic material to attach the archwire to the teeth. The brackets blend right in with the natural shade of the tooth, so all you can see from a distance is the thin metal wire. That makes them a great orthodontic option for image-conscious celebs (like Tom Cruise and Faith Hill, who both wore them) — as well as anyone who may be concerned that traditional metal braces don't fit in with their "look".
In addition to ceramic braces, there are other, less-visible orthodontic treatments that can work just as well in many situations. One is lingual braces, which are similar to traditional braces — except they are applied on the tongue-side of the teeth, making them truly invisible. Another is clear aligners, a series of transparent plastic trays that are worn 22 hours a day and gradually move the teeth into more pleasing positions. What's the best way to know which system is right for you? Come in and talk to us about your options!
Besides braces, did Cristiano Ronaldo have other cosmetic dental work (like teeth whitening) done? It's possible, but he's not saying exactly. Yet, as he told a Portuguese magazine, "I feel good about myself and that's the most important thing."
If you would like more information about ceramic braces or other orthodontic treatments, please contact us or schedule an appointment for a consultation. You can learn more in the Dear Doctor articles "The Magic of Orthodontics" and "Orthodontics For The Older Adult."